Galleria BMW: Hurricane Relief

At Galleria BMW, we strive to help locals find the vehicle that fits their automotive needs. However, when disaster strikes, whether it be a hurricane or another natural phenomenon, we also want to extend a hand to help the recovery efforts. One aspect of getting back on your feet after a devastating event is finding a reliable, sturdy form of transportation.
When you come to our BMW dealership, we'll be happy to get you behind the wheel of a trustworthy model. You can never be too prepared for Mother Nature and we're eager to help you remain active and mobile!
Hurricane Relief Offer
It takes a concerted effort from everyone in the community to overcome events as life-altering as a hurricane. Knowing this, we feel that it's our responsibility to step in and do our part.
One form of assistance we can provide is our hurricane relief offer. During the 2021 hurricane season, any Mississippi resident that is affected by this catastrophe will receive Employee Pricing on all new vehicles.1
With this modest deal, you can continue to save resources while landing a vehicle that can be used for transportation. Whether you're assisting a clean-up effort or simply want to move freely around town again, this deal can help you get there.
Selecting a Reliable BMW Model
At our BMW dealership, you'll find models that offer the sturdy reliability you need when the going gets tough.
For example, the BMW X5 or BMW X7 SUVs have all-wheel drive capability, plenty of cargo and passenger room, as well as safety and driver-assistance features to help you confidently navigate rain-slick streets.
A Dealership You Can Trust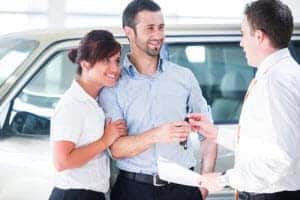 The services at our BMW dealership are comprehensive, reflected in honors such as the 2020 National BMW Center of Excellence Award and the title of #1 luxury dealer on the Mississippi Gulf Coast.
When you visit our 11-acre campus, we'll greet you with a smile and take the time to learn about your life. If you have questions about a model or the Hurricane Relief Program, we'll sit down with you and provide the insight you're looking for.
If you simply need repairs on your model, our service shop will be happy to assist. Models from our dealer benefit from the Mobile Service Vehicle program as well—a process where we bring the service directly to you!
Moving Forward When a Hurricane Strikes
While hurricanes can't be prevented, it's possible to work together and provide active relief. At Galleria BMW, our mission is to always act as a positive influence for our friends and family in the local communities.
If you need a vehicle in the aftermath of a storm, get in touch with our team and we'll happily explain the Hurricane Relief Program in detail!
1 Employee Pricing on any available new inventory – available for any MS state residences only effected by the storm from now through December 2021. May be combined with other offers. Customers must furnish a letter from their insurance company that shows their vehicle's make and model, amount of damage it has and proof that the damage came from recent storm or hurricane season 2021. Specific vehicles are subject to availability. Visit Galleria BMW Today. Offer valid through Dec 31st, 2021 .