How to Connect My Phone to My Car

Modern technology makes up a large part of routine travel nowadays. With BMW, you can effortlessly link your smartphone to any recent model for access to music, navigation, and other applications.
Once you connect for the first time, most BMW models will remember your device and have it saved in the databank. So, if you've been asking yourself, "How do I connect my phone to my car?" just take a few moments to look over this step-by-step process.
For more technology insights to improve your travels near Biloxi, Gulfport, and D'lberville, contact Galleria BMW!
Connecting Your Phone to Your BMW Wirelessly
For most BMW models, you are going to have the option to connect your smartphone to the infotainment interface wirelessly or with a USB cord. In this section, we'll be looking at the wireless option, which is predicated on Bluetooth® technology.
Here are the brief steps you'll want to take to link your smartphone to your BMW:
Be sure Bluetooth® capability is activated on your phone. Bluetooth® can be found in the general settings application on your home screen.
If Bluetooth® is turned on for your phone, go to the touchscreen of your BMW. You'll want to find a menu option that says Mobile Devices. Click it, then choose the New Device option.
From there, the name of your BMW model's Bluetooth® compatibility should pop up as an option on your smartphone. Select it, and your smartphone should begin syncing to your model.
The last step for many BMW vehicles is to confirm a PIN number that might appear on your touchscreen. If the PIN pops up, just input the code into your phone and you'll be good to go!
Connecting Your Phone to Your BMW Using a USB Cord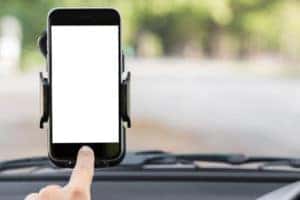 While Bluetooth® compatibility is the easiest and quickest way to sync your smartphone to your BMW, especially after you get the initial setup completed, you can also use a USB cord for simple hook-ups.
While different BMW models are going to have a different numbers of USB ports, most will have one located within the center console. If you have the USB cord, all you have to do is attach one end to the USB port within the center console and attach the other end to your phone. From there, you'll have straightforward access to music, podcasts, navigation, and other applications.
Guests who may be coming along for a ride can also attach their smartphones to the car using this USB method if they want to play the role of DJ on a long trip!
Connecting Your Phone to Your Car? BMW Makes it Easy
User-friendliness is a staple of any BMW model. A good example is how straightforward it is to link your smartphone to your vehicle. If you still have questions though, our Galleria BMW staff is always happy to assist those near D'lberville, Biloxi, and Gulfport!